My Peloton HQ Studio Visit
I went into the studio for my 100th ride. It was an epic day. Everyone in the studio that I told I had come in for my 100th ride was super excited for me. I got two shout-outs from Jennifer Jacobs. When I saw her in the smoothie area afterwards and thanked her she comped me a celebratory smoothie. So NICE! I really felt like everyone was there with me as a team.
All in all I spent about two hours at the studio. Here's my suggestions for how to maximize your studio experience.
#1: Come early and chat in the boutique: Even if you are not going to buy anything, the boutique retail folks are super nice and will just chat with you are peloton. You guys can discuss fav instructors, best thing to get at the smoothie bar, etc.
#2: Wait until the rush dies down (usually about 15 minutes before a class starts) and check in: Next you'll check in. Confirm your bike number. The folks at this desk will give you your shoes and if they can, move your bike position. They can give you advice on where to sit to be seen or not be seen.
#3 Don't bring stuff. The Toiletries are free and delightful. There's a towel both for on the bike and for the shower. The locker has an automatic lock. On the bike there's water bottles already set up with a towel. Really, you need nothing except a change of clothes for after.
#4: Coffee in the lounge: The lounge area outside the studio is honestly one of the nicest I've ever been in and I've been to a lot of boutique fitness studios in NYC. Spend some time with a cup of coffee at the smoothie bar. When I was there, they were serving La Colombe. Seriously legit coffee and they even had La Colombe's Draft Latte on tap. Delicious.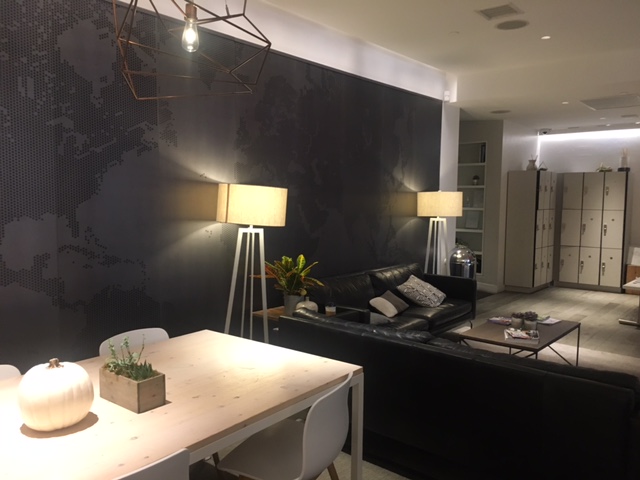 #5: Tell everyone working there that you are a home rider visiting. If you are celebrating a milestone, tell the workers there that too. Everyone was just as excited that I was there for my 100th ride as I was! It felt like I was a part of a big team of people congratulating me and happy for me!
#6: Take time to stretch and foam roll afterwards. This is the tablet stand that the instructors are always telling studio riders that they can use for the on-demand weights and stretching after class. It seems a little in the middle of everything for me to do that, but I definitely did a bit of foam rolling there once the traffic died down.
#7: What to bring:
Your login information. You need it for your ride to count in your profile.
Your bike settings. Get that seat height, handball height right!
Your bike shoes (you can clip in here too) if you don't want to use the ones they have here.
An Open Mind: Your tablet will be a tiny thing, very different from your big screen at home. You also will only be able to see the leaderboard of the folks in the room, BUT the folks at home will be able to see YOU in the leaderboard.
An awareness that the instructor will be teaching to the cameras so she/he may not be connecting so much to you in the room as she/he would appear to be if you are biking at home.